Noted Apple analyst Ming-Chi Kuo revealed that Apple intends to introduce a new 3D Touch thin film sensor to the new iPhone to be released this year to replace current 3D Touch technology.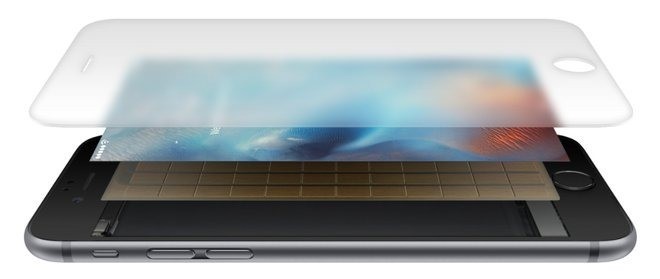 The thin film sensor is said to be placed underneath the panel.
Rather than adopting a flexible printed circuit board sensor, Apple is expected to use a thin film sensor, a component package performing with better sensitivity than that of existing implementations, and to locate it beneath the OLED panel. Compared with current 3D Touch design, this new film sensor could possibly provide better overall user experience, and even foster the development of gestures more diverse and complex than peek, pop, and Quick Actions.
However, Apple may face a challenge when trying to fit a film sensor under an OLED panel, according to Kuo. Current 3D Touch sensors include a rigid metal conductive plate as the whole design, while film sensor packs merely consist of flexible materials. This essential structural difference makes film sensor stacks more vulnerable to deformation. Kuo said a passive metal component will be put under the film sensor as a support to prevent potential damage from regular use.
Manufacturing new film sensor stacks will also increase per module cost as it requires a more complicated lamination process. Kuo estimated the manufacturing cost will rise by 10 to 20 percent in comparison to that for producing current 3D Touch sensors. Module providers GIS and TPK are likely to share orders and the supply will begin near the end of 1Q17.
Speaking of Apple's multi-touch technology, it has gone through from Force Touch, sensors deployed in Apple Watch and MacBook trackpads to detect finger pressure, to 3D Touch, an integration of capacitive sensors and an iPhone display's backlight to repeatedly measure the distance between iPhone's cover glass and sensors to translate the results. Following that, now Apple has redeveloped a film sensor that works under similar principles but provides more accurate deflection readings and, most of all, it is much thinner.
The rumour has been spread like crazy that Apple will release its first 10th anniversary edition iPhone along with a pair of upgrades for the iPhone 7 series. The special edition iPhone, also called as the OLED variant, is anticipated to feature several innovations, including an OLED display, a 'glass sandwich' design with a stainless steel frame and more. Even the new iPhone's incorporate technologies, such as wireless charging and a home button hiding under the panel are of incredible novelty. Most recently, there is also an unofficial information saying the new iPhone will sport a large 5.8-inch OLED screen for wraparound display, underneath which new sensors embed.